Yujie Diao (Center for Hydrogeology and Environmental Geology Survey, China Geological Survey – CSIRO)
Hosted by the Australian Government Commonwealth Scientific and Industrial Research Organisation (CSIRO), Dr Yujie Diao undertook an exchange at the Department of Earth Science and Resource Engineering from Nov to Dec 2017 in Melbourne. He focused his research on reservoir modelling of CO2-EWR in East Junggar basin, working closely with Prof Jonathan Ennis-King's team. During his visit, Dr Diao also gave a presentation on reservoir modelling and CO2 migration in the Shenhua CCS demonstration project.
Based on the available data and knowledge of the CO2CRC Otway project, Dr Yujie Diao constructed a numerical simulation of enhanced efficiency of CO2 storage and saline production on the China Geological Survey's D7 CO2 injection well in the East Junggar basin. He has established a preliminary plan for studying modelling of residual and dissolution trapping of the D7 well and will continue to work with Prof Ennis-King.
Dr Diao's visit to CO2CRC Otway Project during its open day on 18 November provided him a better understanding of the site's geology characteristics, the achievement of the project's first two stages and its future plan. Dr Diao visited Geoscience Australia on 21 and 22 November, when he met with the CAGS team and visited GA's repository, mineral collection and laboratories.
On 18 and 19 December, Dr Diao visited National Geosequestration Laboratory in Perth and was given a tour of its impressive facility and equipment. He also met with researchers from Western Australian Government's Department of Mines, Industry Regulation and Safety and was briefed on the framework and research progress of South West Hub demonstration project and Gorgon project.
The research conducted during Dr Diao's exchange will provide a foundation for the CHEGS's CO2-EWR single or multiple wells test in 2018 and beyond. The collaborative relationship established during this exchange will assist researchers from China Geological Survey and CSIRO to work collaboratively in their research and planning for the CCS project.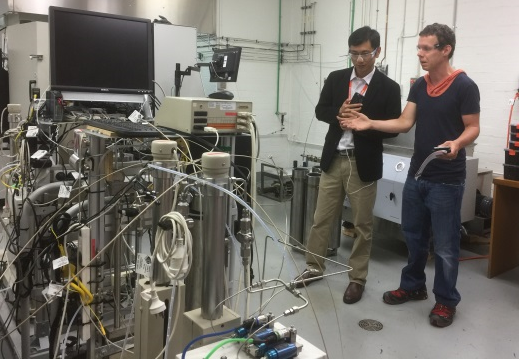 Dr Diao at CSIRO in Perth